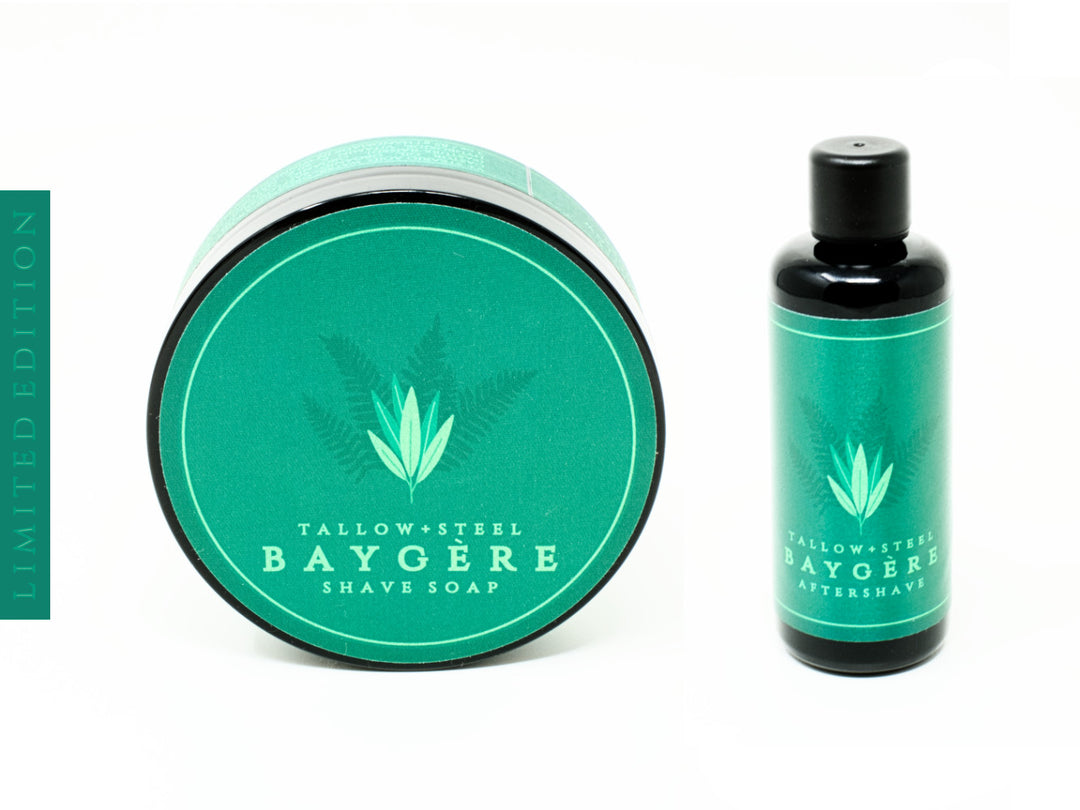 Baygère Collection
Regular price
$42.00
Sale price
$37.00
/
85 g / 3 oz    |    88 ml / 3 fl oz
Bay rum x fougère: the second and final entry in our natural fougère series.
To create Baygère, we again worked with Denatured: an open-access perfume lab here in Winnipeg, Canada. Tom, a graduate of the prestigious Grasse Institute of Perfumery, generously offered his phenomenal expertise to help us develop our second unique all-natural fougère - the fragrance family that evokes the imagined smell of ferns. 
Baygère combines fragrant West Indies bay and refreshing bergamot with the classic fougère triad: absolutes of tonka bean, oakmoss and lavender – which is joined by lavandin, an herbaceous lavender hybrid. Tonka bean, a legume from South America, brings a natural coumarin component – a complex smell of sweet hay and fresh grass.
We further enhanced this distinctive fougère with the addition of juniper berry, cedarwood, and some warmth from vanilla and myrrh.
Classic bay rum meets a time-honoured fresh and green fougère: an encounter of familiar styles with an unfamiliar conclusion.
Bergamot (27%) | West Indies Bay (18%) | Tonka Bean (18%) | Lavindin (11%) | Geranium (5%) | Patchouli (5%) | Lavender (4%) | Atlas Cedarwood (4%) | Oakmoss (3%) | Vanilla (2%) | Juniper (1%) | Vetiver (1%) | Myrrh (1%) | 100% natural aromatic extracts from botanicals.
Shave Soap: Handmade using the highest quality organic ingredients, including tallow - which we render in-house from local, pasture-raised suet.  Our shave soaps are easy to lather using all types of shaving brushes. Plenty of water is required when lathering to achieve optimal cushion and slickness - apply the lather to a wet face for best results.
Aftershave: Water-based splashes that soothe and invigorate the skin from irritation, dryness and razor burn. They are full of nutrient rich organic ingredients that will leave your skin feeling soft, and can be used as a daily moisturizer. Highly concentrated - apply to a wet face for best results.
Shave Soap Version 3: Stearic Acid + Water + Organic Argan Oil + Organic Glycerin + Organic Castor Oil + Organic Safflower Oil + Potassium Hydroxide + Tallow (Pasture-Raised) + Organic Coconut Oil + Bentonite Clay + Sodium Hydroxide + Vitamin E + Silk + Natural Fragrance (Botanical Extracts)
Aftershave Version 2: Organic Witch Hazel + Organic Aloe Vera + Water + Organic Glycerin + Organic Quillaja Extract + Organic Rose Hydrosol + Organic Calendula Hydrosol + Alcohol + Organic Willow Bark Extract + Organic Cucumber Extract + Organic Licorice Root Extract + Organic Rosemary Extract + Leuconostoc / Radish Root Ferment Filtrate + Lactobacillus + Coconut Fruit Extract + Natural Fragrance (Botanical Extracts)
Our aftershaves are water-based and can be shipped worldwide.
Handmade in Winnipeg, Canada