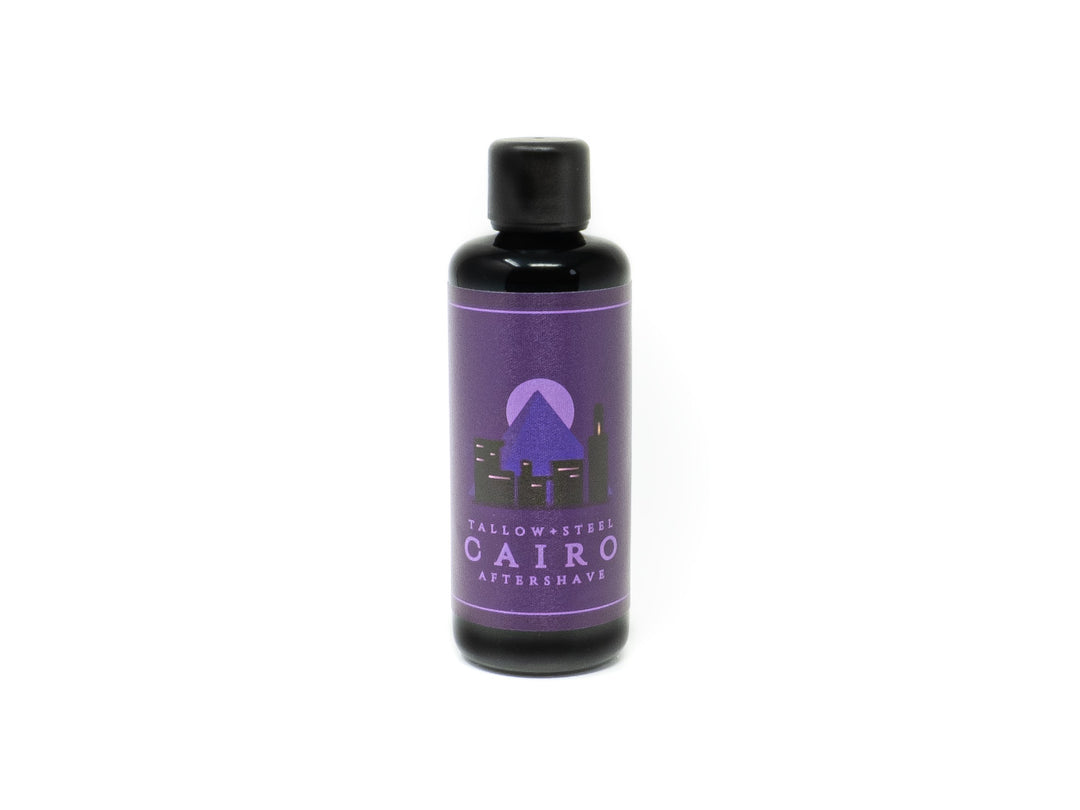 Cairo Aftershave
88 ml / 3 fl oz
Enter a world where modern and ancient are entwined with this intricate scent from faraway lands.
Feel the vivid magenta hues of the desert moonlight. A skyline embellished with ancient pyramids: minders of the sarcophagus and relics of archaic mummies, gazing over the vibrant spirit of the city of Cairo.
Real Egyptian jasmine and neroli concoct a fresh floral aroma, revitalizing antiquity as the zest of bitter orange illuminates the blare of the bustling streets of the age-old city. The deep zing of the Egyptian citrus is sedated by the softness of warm benzoin to accomplish a striking blend between serenity and intensity: a re-embodiment of the city and its mythical history.
Cairo is warmed by hints of resinous notes from frankincense and myrrh, entrancing you back to the roots of the pharaohs who ruled many years ago, subdued to perfection by the herbaceous touch of Egyptian geranium, and then merging the past with the modern green freshness of violet leaf.
Engrave enchanting hieroglyphics into the horizon adorned with high-rises with this powerful citrus-floral scent.
Bitter Orange (30%) | Lime (20%) | Neroli (19%) | Geranium (11%) | Benzoin (7%) | Jasmine (5%) | Myrrh (4%) | Frankincense (3%) | Violet Leaf (<1%) | 100% natural aromatic extracts from botanicals.
$1 from every Cairo sold is donated to the Sawiris Foundation, an organization dedicated to alleviating poverty and social and economic exclusion, as well as providing equitable educational opportunities for the most marginalized groups in Egypt. To learn more about their cause or donate, please visit their website: sawirisfoundation.org
Tallow + Steel aftershaves are water-based splashes that soothe and repair the skin from irritation, dryness and razor burn. They are full of nutrient rich organic ingredients that will leave your skin feeling soft, and can be used as a daily moisturizer. Highly concentrated - apply to a wet face for best results.
Aftershave Version 2: Organic Witch Hazel + Organic Aloe Vera + Water + Organic Glycerin + Organic Quillaja Extract + Organic Rose Hydrosol + Organic Calendula Hydrosol + Alcohol + Organic Willow Bark Extract + Organic Cucumber Extract + Organic Licorice Root Extract + Organic Rosemary Extract + Leuconostoc / Radish Root Ferment Filtrate + Lactobacillus + Coconut Fruit Extract + Natural Fragrance (Botanical Extracts)
Our aftershaves are water-based and can be shipped worldwide.
Handmade in Winnipeg, Canada