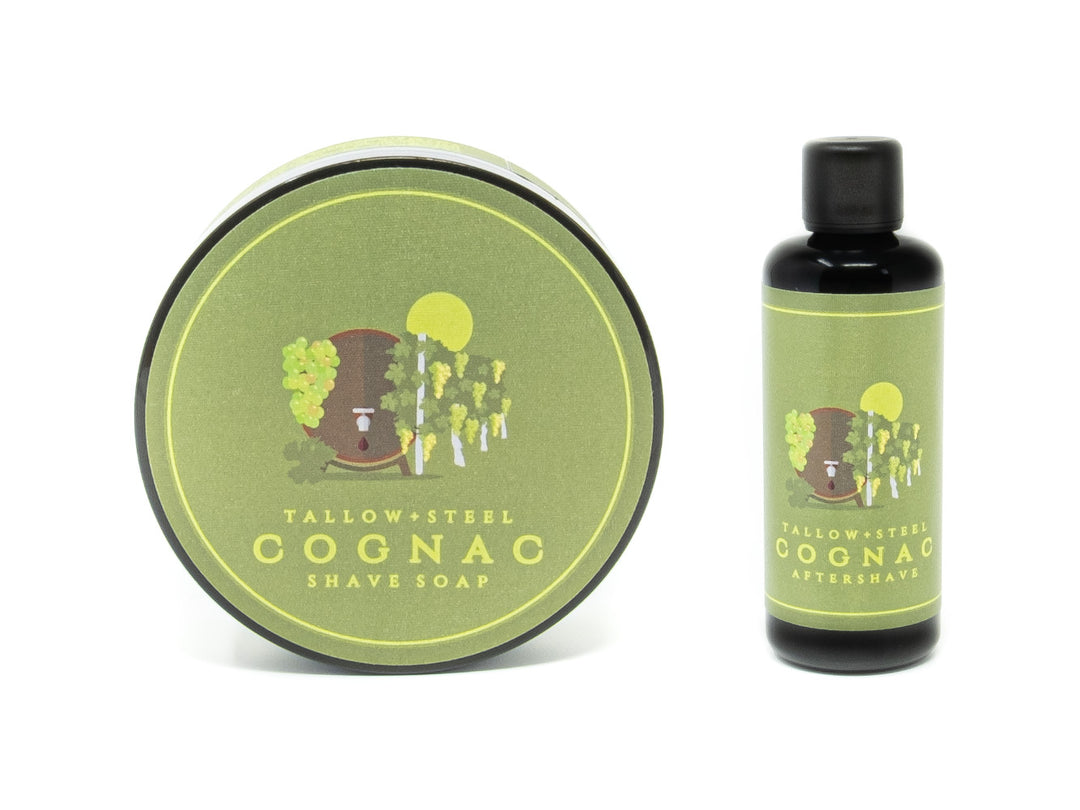 Cognac Collection
Regular price
$42.00
Sale price
$37.00
/
85 g / 3 oz    |    88 ml / 3 fl oz
Be allured to the elegant vineyards of a rustic culture with this tribute to a classic aperitif.
Graced by the weaving of the La Charente river, the celebrated region has mastered the brandy spirit for four centuries. Inspiring surroundings of the splendid symmetry of abundant vineyards proudly display the grand heritage, and along with the enchanting architecture of vintage winery estates, forms an idyllic territory - Cognac.
Cognac is our homage to the great spirit that takes its name from the region. We've crafted an experience resembling a finely aged Cognac: white wine twice distilled in a Charentais copper still and undisturbed for years maturing in oak casks. Cognac essential oil's crisp green grape aroma is enriched by woody caramel notes from European Oakwood absolute: an aromatic extraction from the same wood in which the spirit ages. A fleck of smokiness roused from tobacco leaves, with cocoa, jasmine and vanilla mingling in the bouquet to help achieve the complexity only obtained through years of maturation.
Cognac is a scent perfectly complexed by a harmony of flavours: the blend of eau-de-vie, wood, air, and terroir bestows you with a tastefully spirituous boozy aroma.
Cognac (38%) | Oakwood (21%) | Vanilla (18%) | Orange (8%) | Tobacco (7%) | Cocoa (6%) | Jasmine (2%) | 100% natural aromatic extracts from botanicals.
Shave Soap: Handmade using the highest quality organic ingredients, including tallow - which we render in-house from local, pasture-raised suet.  Our shave soaps are easy to lather using all types of shaving brushes. Plenty of water is required when lathering to achieve optimal cushion and slickness - apply the lather to a wet face for best results.

Aftershave: Water-based splashes that soothe and invigorate the skin from irritation, dryness and razor burn. They are full of nutrient rich organic ingredients that will leave your skin feeling soft, and can be used as a daily moisturizer. Highly concentrated - apply to a wet face for best results.
Shave Soap Version 3: Stearic Acid + Water + Organic Argan Oil + Organic Glycerin + Organic Castor Oil + Organic Safflower Oil + Potassium Hydroxide + Tallow (Pasture-Raised) + Organic Coconut Oil + Bentonite Clay + Sodium Hydroxide + Vitamin E + Silk + Natural Fragrance (Botanical Extracts)
Aftershave Version 2: Organic Witch Hazel + Organic Aloe Vera + Water + Organic Glycerin + Organic Quillaja Extract + Organic Rose Hydrosol + Organic Calendula Hydrosol + Alcohol + Organic Willow Bark Extract + Organic Cucumber Extract + Organic Licorice Root Extract + Organic Rosemary Extract + Leuconostoc / Radish Root Ferment Filtrate + Lactobacillus + Coconut Fruit Extract + Natural Fragrance (Botanical Extracts)
Our aftershaves are water-based and can be shipped worldwide.
Handmade in Winnipeg, Canada