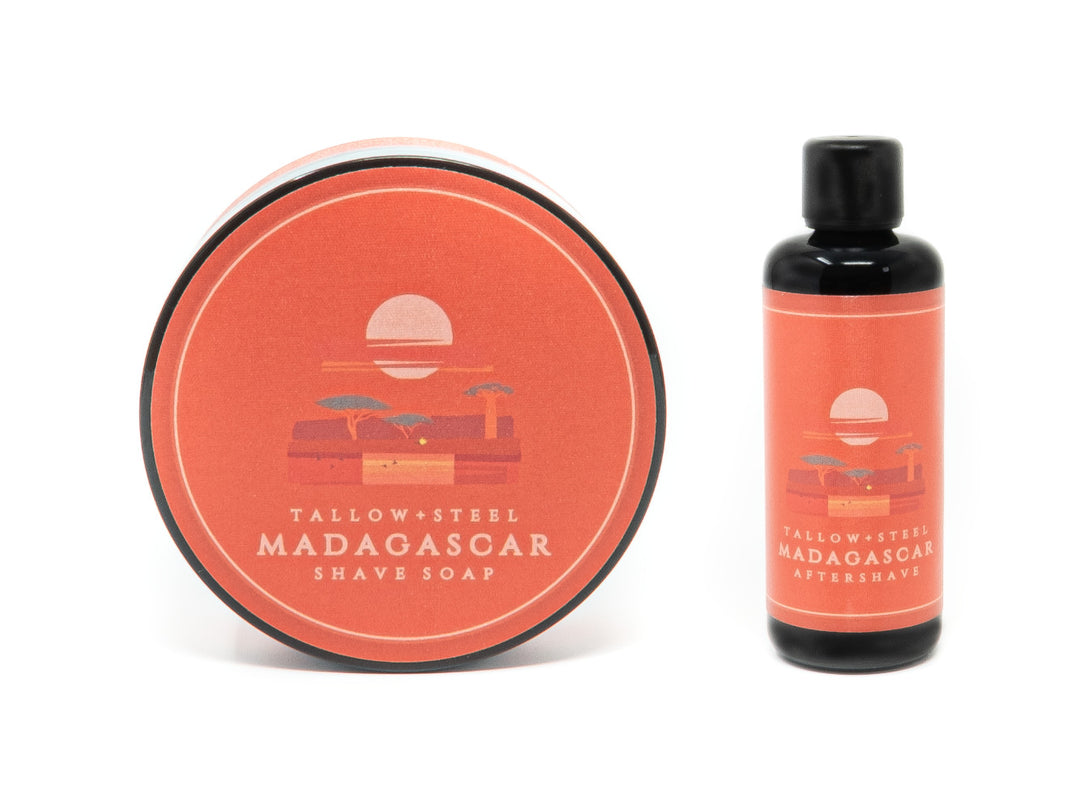 Madagascar Collection
Regular price
$42.00
Sale price
$37.00
/
85 g / 3 oz    |    88 ml / 3 fl oz

Journey to the beautifully unspoiled island of Madagascar, and experience its amazing biodiversity with this natural floral scent.
Madagascar is a wonderland of shifting landscapes forgotten by time—trek beneath the green canopy of the tropical rainforests, or relax in the long shadows cast by the majestic baobab trees. 
Using essential oils sourced directly from Madagascar to reflect the island's rich and unexplained biodiversity, this floral scent centers around some of the finest ylang ylang essential oil produced on the island. Combined with a sweet geranium rose oil, these floral notes will slowly subside making way for flora endemic to Madagascar - spicy ravensara, and green woody katrafay. Ever-present during the aromatic journey is a touch of the intoxicating scent of the island's famed vanilla – prized for its warmth, and rich liqueur-like sweetness.
Madagascar is an uplifting fragrance that will whisk you away to an almost unreachable place that is rich with adventure and beauty. 
Ylang Ylang (54%) | Katrafay (28%) | Vanilla (10%) | Rose Geranium (5%) | Ravensara (3%) | 100% natural aromatic extracts from botanicals.
$1 from every Madagascar sold is donated to SEED Madagascar, an organization working to enhance the capacity of individuals, communities, organizations and government in fulfilling sustainable environment, education and development goals in southeast Madagascar. To learn more about their cause or donate, please visit their website: madagascar.co.uk
Shave Soap: Handmade using the highest quality organic ingredients, including tallow - which we render in-house from local, pasture-raised suet.  Our shave soaps are easy to lather using all types of shaving brushes. Plenty of water is required when lathering to achieve optimal cushion and slickness - apply the lather to a wet face for best results.
Aftershave: Water-based splashes that soothe and invigorate the skin from irritation, dryness and razor burn. They are full of nutrient rich organic ingredients that will leave your skin feeling soft, and can be used as a daily moisturizer. Highly concentrated - apply to a wet face for best results.
Shave Soap Version 3: Stearic Acid + Water + Organic Argan Oil + Organic Glycerin + Organic Castor Oil + Organic Safflower Oil + Potassium Hydroxide + Tallow (Pasture-Raised) + Organic Coconut Oil + Bentonite Clay + Sodium Hydroxide + Vitamin E + Silk + Natural Fragrance (Botanical Extracts)
Aftershave Version 2: Organic Witch Hazel + Organic Aloe Vera + Water + Organic Glycerin + Organic Quillaja Extract + Organic Rose Hydrosol + Organic Calendula Hydrosol + Alcohol + Organic Willow Bark Extract + Organic Cucumber Extract + Organic Licorice Root Extract + Organic Rosemary Extract + Leuconostoc / Radish Root Ferment Filtrate + Lactobacillus + Coconut Fruit Extract + Natural Fragrance (Botanical Extracts)
Our aftershaves are water-based and can be shipped worldwide.
Handmade in Winnipeg, Canada