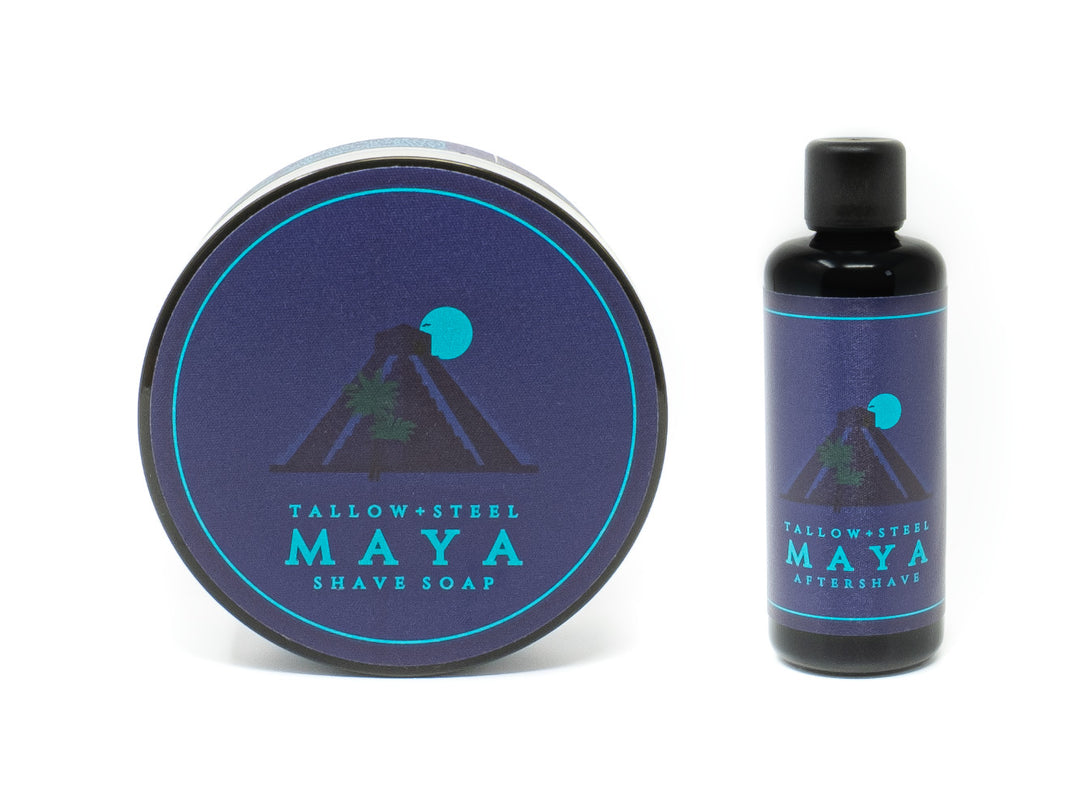 Maya Collection
Regular price
$42.00
Sale price
$37.00
/
85 g / 3 oz    |    88 ml / 3 fl oz

Explore the ancient aroma of a lost civilization, rich with mystery and the exoticness of the Central Americas.
Ancient ruins peer out of overgrown jungle, a testament to an advanced civilization long abolished. Once, rituals took place here, where smell, sound and sight mixed into one in ceremony.
Maya is an aroma that turns back the calendar, bringing a richly exotic blend of essential oils which evokes memories of an empire reclaimed by nature. The bitter sweetness of cocoa melts into the richness of coffee and tobacco, while allspice and cardamom yield to citrus for a sensuous tang that reaches through the ages.
This spicy, intoxicating blend characterizes the spirit of adventure, combined with a mysticism of the ages for a bold, masculine scent.
Lime (37%) | Allspice (26%) | Coffee (19%) | Cocoa (6%) | Cardamom (5%) | Sour Orange (5%) | Tobacco (2%) | 100% natural aromatic extracts from botanicals.
$1 from every Maya sold is donated to Mayan Families, who's mission is to facilitate sustainable development programs in impoverished communities in Guatemala. To learn more about their cause or to donate, please visit their website, mayanfamilies.org
Shave Soap: Handmade using the highest quality organic ingredients, including tallow - which we render in-house from local, pasture-raised suet.  Our shave soaps are easy to lather using all types of shaving brushes. Plenty of water is required when lathering to achieve optimal cushion and slickness - apply the lather to a wet face for best results.
Aftershave: Water-based splashes that soothe and invigorate the skin from irritation, dryness and razor burn. They are full of nutrient rich organic ingredients that will leave your skin feeling soft, and can be used as a daily moisturizer. Highly concentrated - apply to a wet face for best results.
Shave Soap Version 3: Stearic Acid + Water + Organic Argan Oil + Organic Glycerin + Organic Castor Oil + Organic Safflower Oil + Potassium Hydroxide + Tallow (Pasture-Raised) + Organic Coconut Oil + Bentonite Clay + Sodium Hydroxide + Vitamin E + Silk + Natural Fragrance (Botanical Extracts)
Aftershave Version 2: Organic Witch Hazel + Organic Aloe Vera + Water + Organic Glycerin + Organic Quillaja Extract + Organic Rose Hydrosol + Organic Calendula Hydrosol + Alcohol + Organic Willow Bark Extract + Organic Cucumber Extract + Organic Licorice Root Extract + Organic Rosemary Extract + Leuconostoc / Radish Root Ferment Filtrate + Lactobacillus + Coconut Fruit Extract + Natural Fragrance (Botanical Extracts)
Our aftershaves are water-based and can be shipped worldwide.
Handmade in Winnipeg, Canada