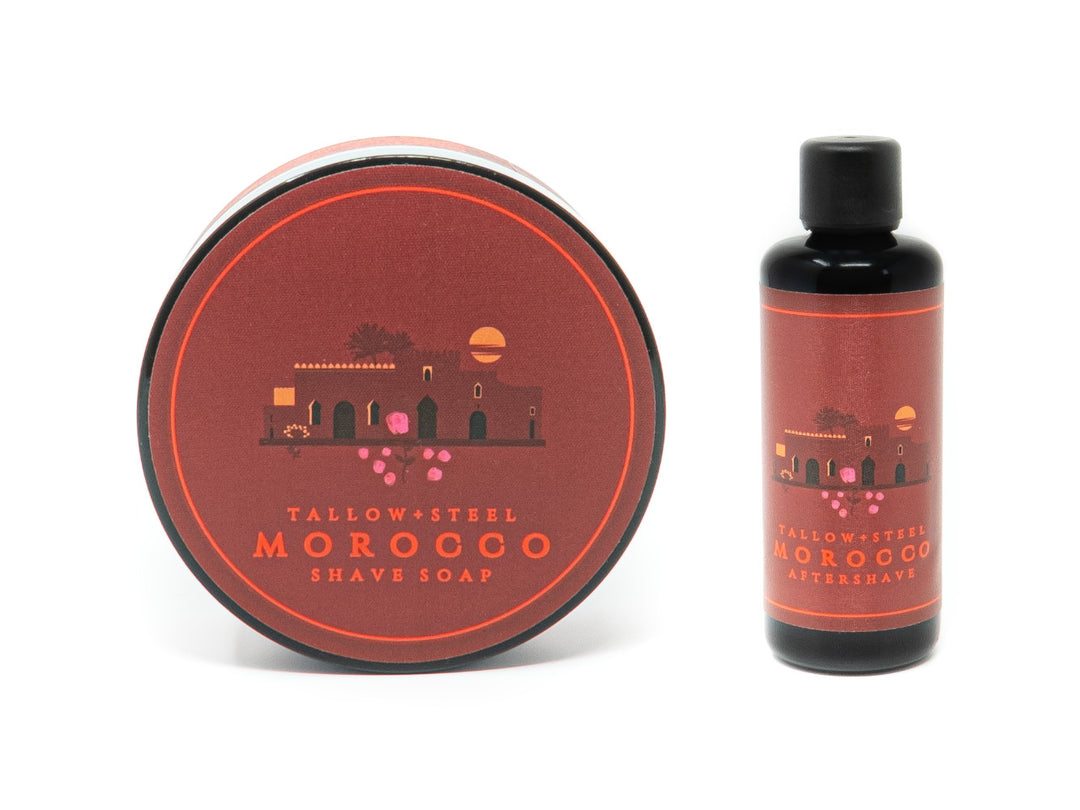 Morocco Collection
Regular price
$42.00
Sale price
$37.00
/
85 g / 3 oz    |    88 ml / 3 fl oz
Unwind in the golden oasis of Morocco's radiant Valley of Roses, with an alluringly intense fragrance.
Morocco unlocks the powerful aroma of its Vallée des Roses, where wild roses are tenderly handpicked by locals. Plucked at dawn to preserve the damp morning freshness, it is from these flowers that some of the world's finest rose oil is produced.
It remains a mystery how such vibrant roses began growing in this remote region of Morocco, but legend has it that merchants from Damascus brought them to the bronze landscape long ago. Now these pink roses are celebrated by a parading community at the annual Festival of Roses in the nearby town of Kalaat M'Gouna.
Combined with relaxing fruitiness of the rare blue oil distilled from Morocco's tansy flower, and the leafy-green notes of Moroccan petitgrain, the balsamic notes of Atlas cedarwood enrich the fresh citrus to harmonize the pure rose absolute - establishing a creation that is delicately spicy, fruity and floral.
This is a scent that originates from the heart of Morocco's Atlas Mountains. Just as the rose journeyed from ancient Syria to the heart of Morocco, this intoxicating fragrance will move the Valley of Roses to you.
Rose (52%) | Bitter Orange (18%) | Lime (15%) | Atlas Cedarwood (7%) | Petitgrain (5%) | Blue Tansy (3%) | 100% natural aromatic extracts from botanicals.
$1 from every Morocco sold is donated to Moroccan Children's Trust, an organization dedicated to supporting and improving conditions for vulnerable children and their families in Morocco. To learn more about their cause or donate, please visit their website: moroccanchildrenstrust.org
Shave Soap: Handmade using the highest quality organic ingredients, including tallow - which we render in-house from local, pasture-raised suet.  Our shave soaps are easy to lather using all types of shaving brushes. Plenty of water is required when lathering to achieve optimal cushion and slickness - apply the lather to a wet face for best results.
Aftershave: Water-based splashes that soothe and invigorate the skin from irritation, dryness and razor burn. They are full of nutrient rich organic ingredients that will leave your skin feeling soft, and can be used as a daily moisturizer. Highly concentrated - apply to a wet face for best results.
Shave Soap Version 3: Stearic Acid + Water + Organic Argan Oil + Organic Glycerin + Organic Castor Oil + Organic Safflower Oil + Potassium Hydroxide + Tallow (Pasture-Raised) + Organic Coconut Oil + Bentonite Clay + Sodium Hydroxide + Vitamin E + Silk + Natural Fragrance (Botanical Extracts)
Aftershave Version 2: Organic Witch Hazel + Organic Aloe Vera + Water + Organic Glycerin + Organic Quillaja Extract + Organic Rose Hydrosol + Organic Calendula Hydrosol + Alcohol + Organic Willow Bark Extract + Organic Cucumber Extract + Organic Licorice Root Extract + Organic Rosemary Extract + Leuconostoc / Radish Root Ferment Filtrate + Lactobacillus + Coconut Fruit Extract + Natural Fragrance (Botanical Extracts)
Our aftershaves are water-based and can be shipped worldwide.
Handmade in Winnipeg, Canada