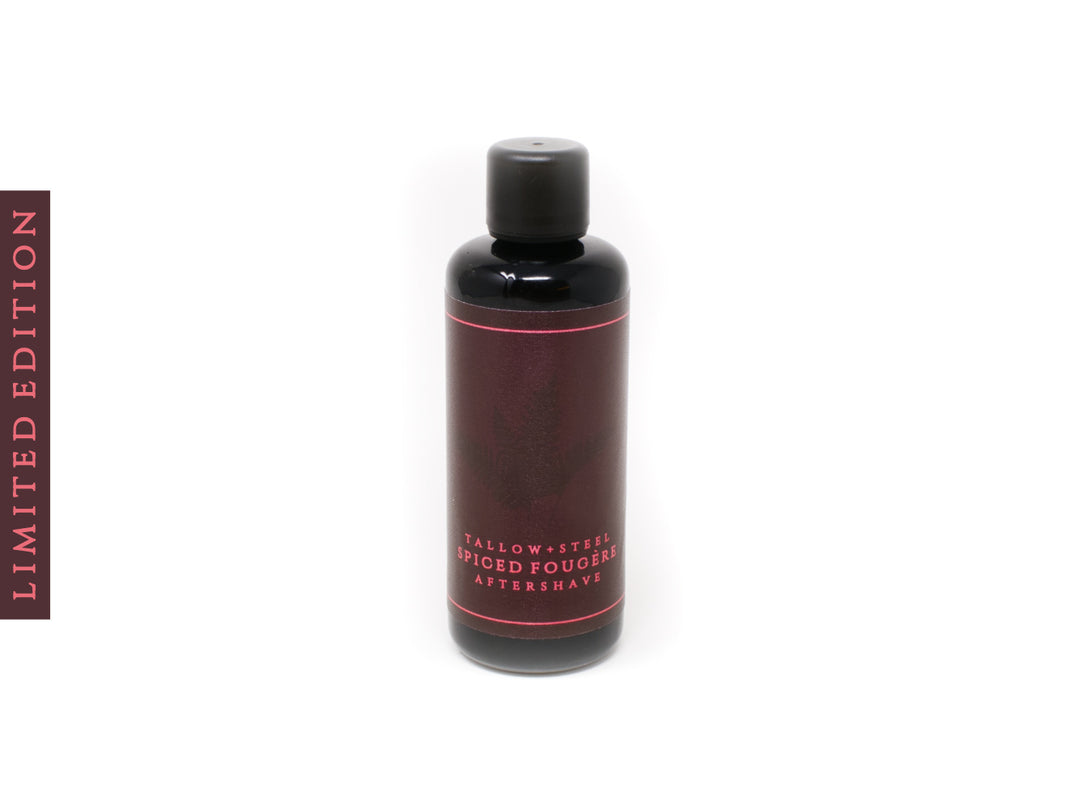 Spiced Fougère Aftershave
88 ml / 3 fl oz
Discover our spiced interpretation of a classic masculine fragrance.
To create Spiced Fougère, we worked with Denatured: an open-access perfume lab here in Winnipeg, Canada. The owner Tom, a graduate of the prestigious Grasse Institute of Perfumery, generously offered his incredible expertise to help us develop an all-natural fougère - the fragrance family that evokes the imagined smell of ferns. We've had an amazing time working with him, and we think you're really going to enjoy our creation. Check out Denatured Lab to see their many unique offerings.
Spiced Fougère began with the classic fougère triad: absolutes of tonka bean, oakmoss and lavender. Tonka bean, a legume from South America, brings a natural coumarin component – a complex smell of sweet hay and fresh grass. The addition of bergamot brings a clean fresh edge that is warmed by woodsy notes of Texas cedarwood and patchouli.
We embellished this classically fresh green fougère by uniting some of our favourite spices (cardamom, allspice, West Indies bay, and vanilla), and resins (frankincense, myrrh, and labdanum.)
Fresh and green greets warm and sweet, rendering a perfectly spiced fougère.
Bergamot (17.5%) | Tonka Bean (12%) | West Indies Bay (12%) | Texas Cedarwood (10%) | Patchouli (10%) | Lavender (8.5%) | Labdanum (8%) | Vanilla (5%) | Frankincense (3.5%) | Myrrh (3%) | Allspice (3%) | Oakmoss (3%) | Geranium (2.5%) | Cardamom (2%) | 100% natural aromatic extracts from botanicals.
Tallow + Steel aftershaves are water-based splashes that soothe and repair the skin from irritation, dryness and razor burn. They are full of nutrient rich organic ingredients that will leave your skin feeling soft, and can be used as a daily moisturizer. Highly concentrated - apply to a wet face for best results.
Aftershave Version 2: Organic Witch Hazel + Organic Aloe Vera + Water + Organic Glycerin + Organic Quillaja Extract + Organic Rose Hydrosol + Organic Calendula Hydrosol + Alcohol + Organic Willow Bark Extract + Organic Cucumber Extract + Organic Licorice Root Extract + Organic Rosemary Extract + Leuconostoc / Radish Root Ferment Filtrate + Lactobacillus + Coconut Fruit Extract + Natural Fragrance (Botanical Extracts)
Our aftershaves are water-based and can be shipped worldwide.
Handmade in Winnipeg, Canada